Top-Notch Possum Removal Service In Sydney
If a professional team is required to resolve the possum infestation issue on your property, you can trust the experts working at Morris Possum Removal In Sydney.
For top-notch quality possum removal Sydney service, we are here to assist you. Our possum controllers have years of experience that offer reliable service to our clients in Sydney.
Whether your commercial or residential place is in a problem because of possums, Morris Pest Control can help you to get rid of the problem. We can remove live possums, we can install possum boxes that also cover your roof and we can remove dead possums as well.
With the help of our experts, you can get rid of all possum species present on your property. Moreover, our professionals remove possums from the roof. We also offer same-day service, emergency service, and scheduled service to our customers.
Further, our possum removal Sydney professionals are highly experienced and well-learned to resolve your problem promptly. Call us today and avail of our services at your earliest convenience.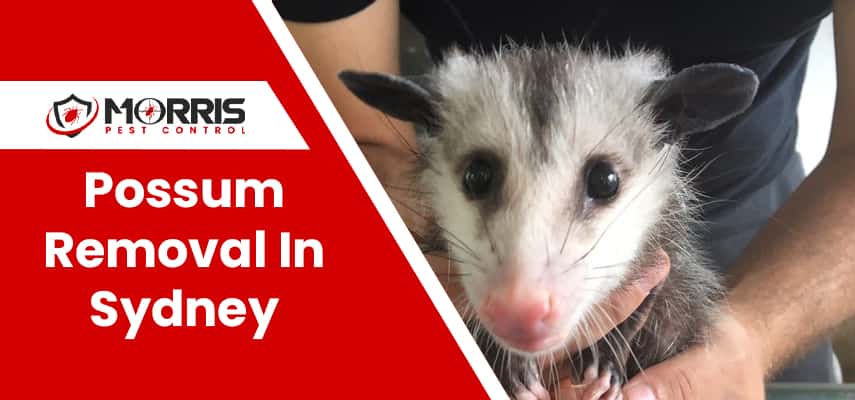 What Are Possums?
Possums are a naughty terrestrial creature that belongs to the marsupial family. They are natives of Australia. Being a clever one, it's tough to catch the possums. Dealing with the possums is quite challenging all over. They are not similar to other pests. Possums are nocturnal animals and like to roam around which makes things messy. Their entrance at your property can make it tough for you to deal with. Possums may spoil numerous things present inside your home. Many properties are spoiled due to possum infestation. Killing them is illegal in Australia. So it's important to go through the rules and regulations of the country while dealing with them.
Signs And Symptoms Of The Presence Of Possums At Your Property
Possums are notorious creatures. They hide in the minute corners and holes, whenever they experience any movement around them. Hence, confirming their presence on the spot might be a tough task for you. Here are a few signs and symptoms that can help you in acknowledging the presence of possums inside your property.
Variant sound is produced by the possums, like hissing, chewing, and screeching.
Damage to the roof space, gutters, pipelines, door corners, and furniture.
You may acknowledge the missing food items.
Presence of unwanted smell on your property. A possum emits an awful odour, which is even harmful to your health.
If you have found a dead possum, then it might be because of a possum infestation.
Same-Day Possum Removal Service In Sydney
Our possum pest control Sydney teams are quick and easy to approach on a single call by the residents of Sydney. Hence, getting rid of nocturnal creatures from your property can be dealt with easily by our team of well-trained personnel.
Removing possums from your property should be a priority. We do understand that their presence can cause a lot of damage to your roof, garden, backyard and other areas. To prevent all undesirable activities, our same-day possum removal service is highly recommended.
Our main motto is to provide the best and most satisfactory service to our customers. We assure you that our experts will help you in the given time with perfection.
Moreover, with the best Possum Removal Sydney professionals, we offer you the best possum removal service. We are available 24/7 in order to help you in the best possible ways. Our expert knows the value of removing possums from the property should be done at the earliest.
Why Is Professional Possum Removal Service Required In Sydney?
Professional possum removal service is a must for Sydney premises. Here's why:
Once possums enter your property, create a lot of nuisance. They may eat your food, rip holes in the walls and floors, leave scraps all over your property, and much more.
Possums are good chewers. They eat up pipes, air ducts, upholstery, and much other stuff present on your property.
Possums around your place can make a huge mess. While moving around, they leave their excrete and droppings. Hence, a pungent smell flows all over the place. This pungent odour may lead to some harmful effects on your health too.
Possums are good at climbing. Once they are aware of the entry point to your property, they may make their houses your roof and chimney holes.
Our Process For Possum Removal In Sydney
In order to save you and your property from the possums, below-mentioned are the brief steps via which we provide you with our Possum Removal Sydney service.
1. Inspection
Our authorised and professional, possum removal team will reach your property at your assigned time. Thereafter, they will conduct a keen inspection of all the entry points, the basement, roof, furniture, rooftops, lawn, drainage pipes, and much more. They will acknowledge all the damages that have been caused by the possums, look into the Severity and the factors that are responsible for the possum infestation, and much more.
We will frame a strategy depending upon the inspection conducted to make your property free from Possums. Henceforth, all the details will be shared with you regarding the Cures, treatments, methods, expected results, techniques to be used, and at last where the possum will be set free about 50m distance.
2. Possum Removal Treatment
After you approve of the strategy framed, our well-experienced team will process the plan. Our Possum trapper team will smartly trap the possum either and leave it at a safe premise.
As per the regulations in Australia, an animal is supposed to be released within 50 metres of your property. Later, our professionals will make your house possum-proof. Hence, they will block all the entry points of the Possum to ensure that this thing may not happen again.
3. Post-Inspection
After giving the right treatment to your property, our possum catcher will undertake a thorough inspection to ensure that all the necessary precautions have been taken. Moreover, the removal of the possum will be cross-checked too.
Residential Possum Removal Service In Sydney
Possum removal on your own is a tedious job. Being naughty creatures, they easily escape. You might run after them to trap them but they may hide inside the upholstery or in the cupboard or some other hidden place. Finding and removing them for an average person is a tough task. Hence removing them on your own could be a time-consuming job. No knowledge of how to handle possums could be another factor in their escape. To avoid any chaos and uncertainties, it's always recommended to hire a professional residential possum removal team.
We are Possum Removal Sydney experts in not only catching the possums but also helping to remove or control other pests too.
Allow our professional to help you in taking care of your problem so that you may live happily in a sound and healthy environment. Call us now to avail of our services.
Commercial Possum Removal Service In Sydney
We too provide commercial dead possum removal services to Sydney business owners. Once hiring is done, our well-trained professionals will take care of an infestation of possums and make sure that possums don't disturb the productivity of your place. Hence, the aura of working hard and a creative mind will be maintained.
We provide our dead Possum Removal Sydney services to all types of workplaces i.e. either small or large to remove pests from your place within a given time. Moreover, our dead possum removal cost is also economical, so it's easy to hire us.
Our services of pest control are highly recommended and reliable. Therefore, schedule an appointment as early as possible with our pest control professionals and we will be there at your place to help you.
Tips To Prevent Possum Infestation
Possums are fond of food and waste stuff. They loiter here and there in order to create food. In search of food, possums might enter your property and create a big mess for you. To keep them away from entering your property, here are a few tips to prevent possum infestation.
1. Plan Regular Pest Control Appointments
Scheduling regular pest control appointments to inspect your property can be the biggest way out of controlling pest infestation. Therefore, it reduces the chances of entering the property.
Moreover, regular appointments can help you with other minor problems that have started causing in one or the other ways. Pest control experts can minimise the problem and make sure that no uncertainties may take place until their next visit.
2. Store Food In Appropriate Containers
Possums are fond of food. And waste material. They keep on loitering over the garbage waste in the hunt for foodstuff. Usually, they go to the area, where there are more possibilities of garbage being present. They may enter your property through the drainage pipe in search of food. Hence, it's important to keep your foodstuff packed or in appropriate containers.
3. Trim Your Lawn On Time
Cleaning your lawn on time reduces the chances of possums building their house inside your property. The long bushes, grass, and branches are also the favourite places of the possums to live at. Hence trimming and cleaning your yard on time makes the possibility of possums entering.
4. Use Of Motion Sprinklers Or Lights
Motion sprinklers or lights are the biggest favour for you to save your property from possums. Moreover, you may also go for possum proofing of your property. The lights are quiet and effective in scaring the possums. Whereas, the motion-activated sprinklers start working as soon as a pest is seen moving within the coverage area. It starts splitting up the water on the pest in order to scare it and send him away.
Ping Us For Professional Possum Removal Service In Sydney
To provide the best and most satisfactory results, our professional team tries with their hard-core efforts and experience to fulfil it. Moreover, we offer numerous solutions and techniques for removing and controlling the pest from the Sydney properties. Our team consists of well-experienced and highly trained personnel. As well, we prefer using modern and updated procedures and techniques to ensure that quality service is given to our customers. Whether you want live or possum removal Sydney service, do not hesitate to ping us.
Moreover, we provide quality results with proven plans and techniques to help you out with the possums at your commercial or residential property. Our pest control services are available for bookings 24/7. You may also ping us in case of an emergency, we do offer quick and quality service on the same day too.
With our well-learned Possum Removal Sydney professionals, we ensure that your problem of removing the possums from your property will be resolved immediately. In case you are wondering about hiring a professional pest control team, do not hesitate, just ping us today and get a no-obligation quote.