Having A Beehive On Your Property in Sydney? Reach Out To Us
If you have a beehive on your property, it is necessary to get rid of it as soon as you identify it. Morris Pest Control is here to do the same! Using the best bee control methods, we aim to offer high-quality services to our customers. In order to cater to the project that we do, our team works efficiently. Our services are customer-oriented and we involve you at every step and every decision that we make. In order to reach your expectations, our Pest Bee Removal Sydney services are going to be ideal. Because our services are not only efficient but are also top-rated. It is because our clients find our services helpful for them. Thus they always rely on our services.
In case you need our assistance in making your property free from bees, contact us at 0488 851 508. Get services from us that will help you in having a safer environment.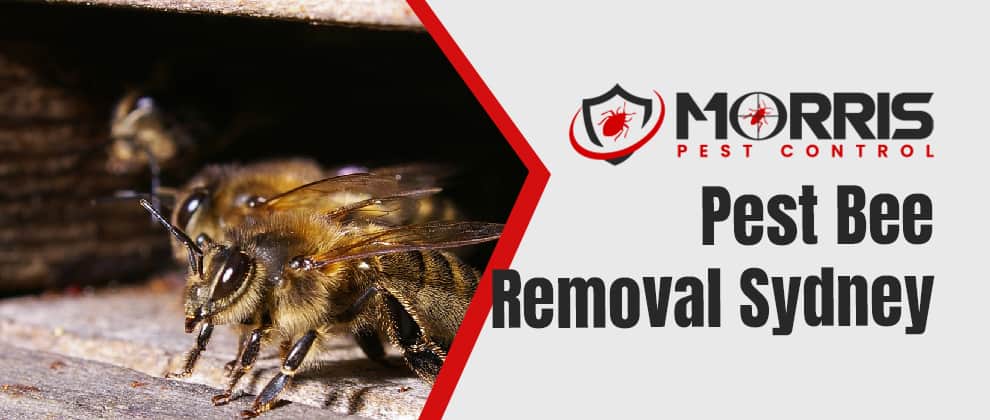 Various Types of Bees That We Can Remove!
There are various bee types that can be dealt with by our team since we train our bee removal team to perform several services. For removing bees from the house, we use the most advanced technologies and perform the tasks with extreme perfection. The following are the different types of bees that our team can deal with:
Honey Bee (Apis mellifera): This particular bee species are often grown for producing honey. But in some cases, they enter the property, even though they are not meant to. This will then lead to a mess and thus this can be removed by our honey bee pest relocation services. In case you need honey bee removal or beehive relocation services, you can contact us.
Bumble Bee (Bombus spp.,): The bumble bees are the robust ones that are smaller than the honey bees and often prefer dwelling in colonies. Feeding on flowers they are often in your gardens, thus you need special care from us to get rid of them. If you have bumble bees on your property, you should definitely get our bee extraction services.
Carpenter Bee (Xylocopa Virginia): For external features, they might look similar to bumblebees, but are often seen in a wider colour range in their abdomen. Identifying the source of infestation can be a task, hence seeking our help is going to be helpful. Get our bee removalist on duty to do the job for you.
How Our Team Manages To Keep Bee Count At Bay?
Our team is very prudent while finding ways to get rid of bees, which are not only effective but also innovative. Since bees are available in various areas of your property, our pest bee removal Sydney team will find effective ways to get rid of them. Our team is here to offer the best quality and long-lasting services. To attain the best results, we do the following ways:
Inspection of The Area of Beehives: To attain the results that we desire, it is important to inspect your property. This will help in gaining a proper understanding of the level of infestation and its sources. Based on this, our bee pest controllers team will now take the next plan of action.
Removal of Bees Around: Our team can locate the bees efficiently after determining the source of the bee infestation. Depending on the inspection report, our bee control Sydney team will now root for the disposal of free-flying bees. This we perform using the fumigation or fogging methods. Once we get rid of all the bees, our bee rescue team will now find ways to remove the beehive.
Removal of Beehive: Without disturbing the bees in the hive, we make sure that we relocate the beehive away from your home, nearer to their natural habitat. Having a beehive can attract even more bees, so with advanced beehive relocation tools, we perform the services.
Destroy The Beehive, If Required: In case, we can't find a better way to get rid of the bees, our team will now aim to destroy the beehive. This will help in solving your issue completely. Because with the removal of the beehive, there won't be any remnants of bees and their infestation.
Final Inspection: After the removal of bees and beehives, our bee pest control team will now perform a final inspection which is necessary to ensure that there are no remnants left. Once this step is done, you can now have a property that is free from bees.
Do You Know How Beehives Are Built?
Beehives can accommodate a large number of bees. And they need to survive even extreme climatic conditions. But what is it made up of? Beehives are made up of beeswax, which is a byproduct of honey. They have glands that can produce wax. Using this, bees can actively produce wax, which is then used to make the beehive. A beehive consists of hollow spaces that can accommodate both bees and honey as well. Beehives are found around attics, tall trees, flowering plants, gardens, yards, old buildings or vehicles, etc. If your property has any of these, then there is a high probability of getting a bee infestation as bees tend to build nests in such proximity to them.
Our Company Offers Pest Bee Removal Services Without Causing Any Delay!
Our company in Sydney is a local one, that offers the best services to keep the bees count in the bay. The services that we offer are quite decent and are of great quality. Offering same-day bee control services, our company is here to help you out in case you need us. For removing bees from the house, get in touch with our team. The following are the features, that make our company outstanding:
Local Company: Local company that offers services across all the regions of Sydney is here. Therefore, you can rely on us for the best quality outcomes.
Accessibility: In case you want to access bee extraction services, we are easily accessible. As we are just a phone call away!
Prompt Services: In case you need us for quick aid, you can hire us to get prompt services.
Same-day And Emergency Services: If you are in an emergency and are wanting to get rid of the beehive on the same day, then contact us.
FAQs on Pest Bee Removal in Sydney
How can you get rid of the beehive from the property in Sydney?
Beehives on the property can not only accommodate the bees but also attract other bees. Therefore, it is necessary to get it removed with experts' help. Using the best quality equipment and methods, we can perform the services. By this, we can easily get rid of beehives from your property in Sydney.
Do you have eco-friendly products?
Yes! Our experts only use eco-friendly products that are sustainable and effective. These products consist of no harsh chemicals. Therefore it is safe for the environment and humankind as well.
Do you provide emergency bee removal services?
In case you are facing an emergency, you can rely on our company as we offer emergency removal and control services. Therefore, if you need assistance to get our services promptly, contact us right away to make your appointment!